I am thankful...
that tonight is the start of the Packer season! Awhoo hoo! I know that it's only preseason but we are just that much closer to regular season. Ha! I'm sporting my Packer fashion scarf that I got during the off-season so I wasn't able to wear it. I'm wearing it proudly today, that's for sure!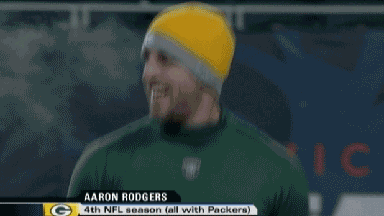 Yes, Aaron, I'm doing a happy dance too! Ha!
I am thankful...that we are also celebrating "K" & "D"'s birthday tonight as well. I am SO excited to give them their gifts! Here is what they got:
All of "K"'s stuff from Justice - spoiled much? Ha!
All of "D"'s stuff - she only got the plate & silverware from the dinner set though.
I am thankful...that during lunch today I get to go check on Chelsie's kitties & hang out on her newly remodeled front porch. It's gonna be a great lunch. I may even go pick something up to eat...or I may just spend the time reading Looking for Alaska. :)
What are YOU thankful for on this Thursday?