Oh man, it's Friday...thank the Lord! For being a short week, it sure seemed long. Ugh. So, lets start this weekend off with some Friday Five fun with
Karli
,
Liz
and
Darci
.
My five for this week are things that I'm looking forward to this summer.
1. I get to
finally
see one of my favorite bands - Disturbed! My aunt & uncle got free admission tickets for Rock USA & my boys are playing & I am SO damn excited! Is it July 15th yet?!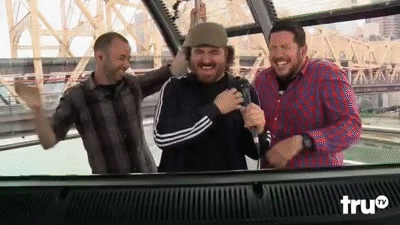 2. I got tickets to go see the Impractical Jokers in Green Bay for the hubby's birthday. We go next Saturday & I am way excited. We have great seats & it should be hilarious!
3. I get to read outside. I won't walk & read like this cuz I would run into people & things, so I'll be sitting specifically in my car for Parking Lot Lunches. Awhoo hoo!
4. Getting my butt in the boat. The hubby & I tend to borrow his parents' boat, which is a lil old thing but I love it - it's not too fast & not too slow, it's just right...for me anyway. Paul would disagree cuz he wants something that'll go FAST! :\
5. Drive with the windows down. I love having the windows down & the music up. It's the best thing EVER! Ha, ha!