Hey, everyone if you are not already apart of these two linkups, you should be - Jessica over at
Sweet Little Ones
hosts the Tuesday Talk & Karli over at
Sept. Farm
hosts 10 on Tuesday. So, join the cool people & do these with us. :)
Since I'll be going today during lunch to pick-up The Force Awakens, I've decided to do ten things that I love about the Star Wars series.
1. Kylo Ren. Right off the bat, he's my favorite character. I never thought that anyone would top Darth Vader but Kylo has. I do believe that he will be worse than Vader was & that scares & excites me a lil bit.
2. The Chewbacca Itty Bitty. Yes, I have one & he's sitting on my desk at work & I think that he's frickin' adorable. I mean, look at this:
3. The music. I just don't think there are many movie scores out there that are better than the ones for the Star Wars franchise. I mean, The Imperial March...need I say more?!
4. Darth Vader. You know you're are one BAMF when you have a tune like Imperial March play every time you enter a room. I know that I would not mess with anyone like that.
5. Yoda. Not only is he adorable but the way he talks is like no other.
6. Spaceballs. Yes, I know that it's not Star Wars but it's a spoof of it & it's one of my favorite movies of all time!
7. The Mystery of Rey. How does she fit in? Who does she belong to? Is she Luke's daughter? Is she Han & Leia's daughter? What the Hell?! I
need
answers!
8. BB8. I love his rollin' lil body. :)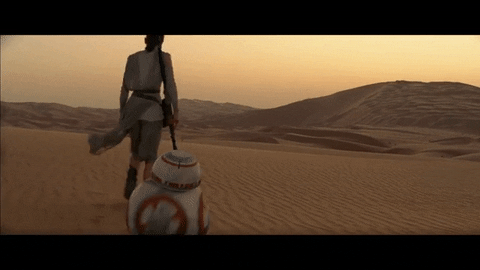 9. Leia's fashion.
10. The love story between Anakin & Padme. Anakin really did love Padme & it was beautiful as it lasted.