Why, hello, everyone. 'Tis that day of the week when we all pick five things to talk about. So, if you would like to linkup you can head on over to Karli &/or Liz.
My five this week are things that I love most about Halloween.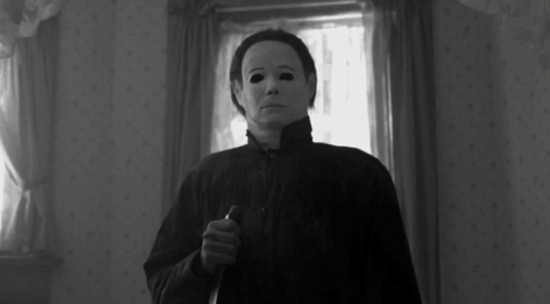 1. Watching Scary Movies. I love scary movies anytime but there is just something extra special about watching them during the Halloween season. My favorites to view are The Ring, Pet Semetary &, of course, Halloween (the original & no sequels).
2. Putting Up My Halloween Decorations. These are just a couple of my lil areas of Halloween decorations. I have some on the shelf over the TV in the living room, on the dining room table, on the front porch - I don't screw around when it comes to decorations. Ha!
3. Dressing Up. I've decided that I'm gonna go as Samara from The Ring. I got myself a long black wig, a white nightgown & a VHS tape that I'll be carrying around with me. I'm sure that I'll be saying "seven days" a whole lot tomorrow night at our party. :)
4. Halloween Party. Since we've gotten older, our friends have a gathering at their house to dress up, eat some grub & hang out. We used to do the whole bar thing but I like this so much more. Last year, it was themed but this year, we got to go with whatever we wanted. Awhoo hoo!
5. Halloween Treats. Who doesn't like to get free candy for just walking up to a house & yelling at someone?! Ha, ha! For our party, I'm going to make Lady Fingers & a Halloween Chex Mix. Should be good stuff...I hope.